When? Saturday 11.06.2022 from 14-19 o'clock.
What? Festival for solidarity with stage program, tombola, information booths and a charity run.
Where? Sportsfield Sandscholle in Potsdam Babelsberg (Note: limited parking space).
How much? The entrance is free of charge.
Who? The festival is jointly organized by the association Neues Potsdamer Toleranzedikt e.V., SV Babelsberg 03 and Christoph Miethke GmbH & Co. KG.
Festival grounds
12:00 - 15:00 EWP youth soccer tournaments
14:00 - 18:00 Information booths
14:00 - 18:00 Street-Soccer, sports and exercise games
16:30 Fundraising run Oberlinhaus & SV Babelsberg 03
Stage
15:00 - 15:15 Opening
15:15 - 15:45 Concert "Mamas & some Papas"
15:45 - 16:15 Talk (J. Jakobs, C. Miethke, M. Schubert & B. Paech)
16:30 - 17:15 Concert "Kiezorchester"
17:45 - 19:00 Concert "Heyohmann"
19:00 End of the event
Alle zusammen – voran 03!
Arbeitsgemeinschaft Spina Bifida und Hydrocephalus e. V. (ASBH)
AWO Potsdam
Bündnis "Potsdam! bekennt Farbe"
Christoph Miethke GmbH & Co. KG
Friedrich-Reinsch-Haus / Soziale Stadt ProPotsdam
Katte e. V.
Lebenshilfe Brandenburg - Potsdam e. V.
Lindenpark Potsdam
Migrantenbeirat der Landeshauptstadt Potsdam
Neues Potsdamer Toleranzedikt e. V.
Oberlinhaus
proWissen Potsdam e. V.
Ringerverein RC Germania Potsdam
Start with a Friend e. V.
SV Babelsberg 03
SV Concordia Nowawes e. V.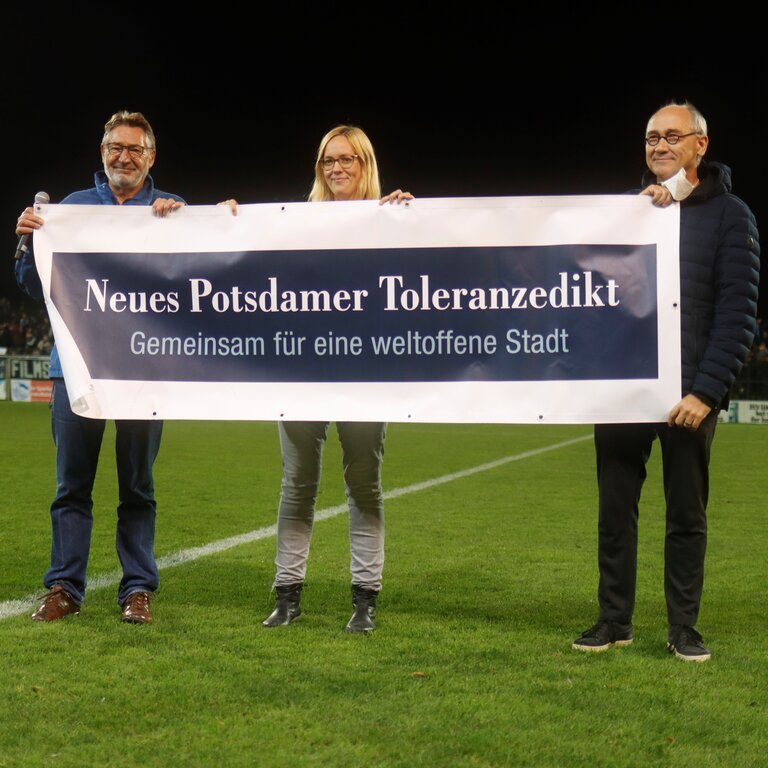 The festival is organized by the three partners Neues Potsdamer Toleranzedikt e.V., SV Babelsberg 03 and Christoph Miethke GmbH & Co. KG.
Since July 1st 2021, Christoph Miethke GmbH & Co. KG has been a jersey sponsor at SV Babelsberg 03. As part of this, SV Babelsberg 03 became a member of the Neues Potsdamer Toleranzedikt association in October 2021, in which Christoph Miethke is active on the board. Accordingly, for the 2021/2022 season, the slogan "Tolerance since 1685" was printed on the players' shorts.
Together, we would like to use the festival to raise awareness for tolerance, inclusion, equality, openness to the world, solidarity and fair play in our community.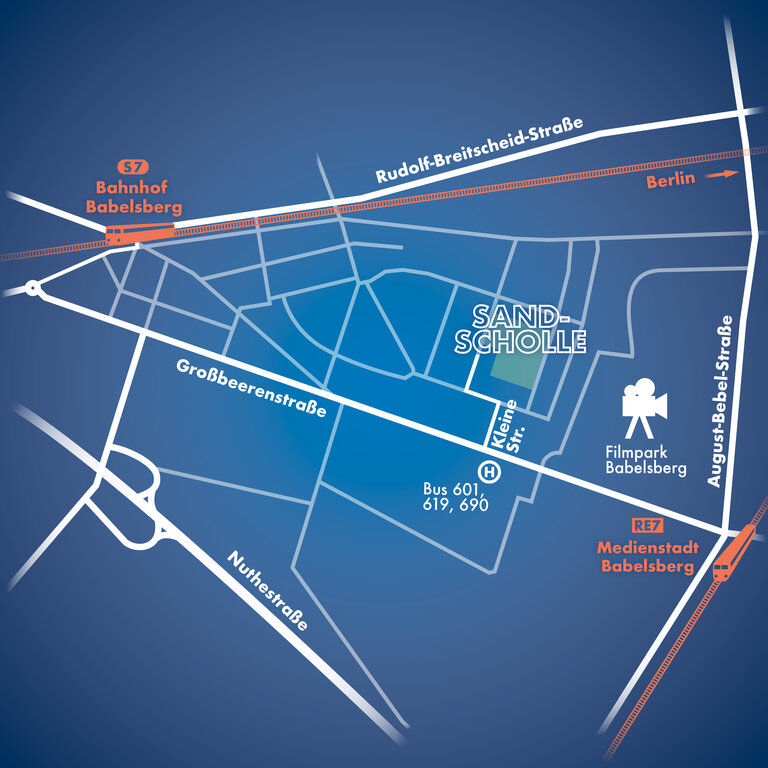 Arrival by bike / on foot:
Coming from the Großbeerenstraße, the Kleine Str. goes off. At its end, Paul-Neumann-Str. leads to the left. From there, turn right into Franz-Mehring-Str. The Sandscholle is on the right-hand side.

Arrival by public transport:
Travelling by public transport is possible via the stations S Babelsberg (S7) and Medienstadt Babelsberg (RE7). From there, the Sandscholle can be reached either by a slightly longer walk, or by bus lines 601, 619, 690 (Kleine Straße stop).

Parking is available only to a limited extent.
The festival is supported by Energie und Wasser Potsdam GmbH, Lindenpark Potsdam (SPI Foundation), Landessportbund Brandenburg e. V., Verein Oberlinhaus.